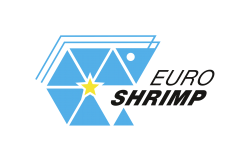 Who we are
The Euroshrimp Team consists of enthusiastic scientists and networkers who are dedicated to support, improve and promote the european shrimp aquaculture throughout Europe.
We strongly believe in a feasible and sustainable shrimp production where it is possible to meet ecological and social production standards to create a long lasting and prosperousness european shrimp production.
What we want
Our mission is to create and maintain a platform for all participants of the european shrimp industry. Whether you are producer, dealer, scientist, service provider, investor, student, expert or amateur, you are welcome to join our network by signing in for our periodic newsletter.
By building and maintaining this network, we want to enable you to get in contact with each other, discuss topics or find support for your business amongst our stakeholders.
What we are
We are a point of contact for the european shrimp production and its stakeholders.
The intension of our non-commercial association is to connect the european shrimp producer by supplying information, offering help and providing support by us and by our network members.
What we hope for
By creating this network and information exchange platform we hope to develop a self-sufficient, active community where we help each other with knowledge and information to promote you, your interests or your business.